The Clear Hub Express WiMax modem has an RP-SMA-female (Reverse Polarity SMA Jack) connector so you would just need to select the RP-SMA-Male (Plug) option in this kit:
https://www.rfwel.com/shop/4G-USB-Mod...tenna-Kit.html
. The most popular antenna in the kit is the 18dBi panel antenna and this works the best for most people.
Of course be sure to place the internal/external switch to the right setting.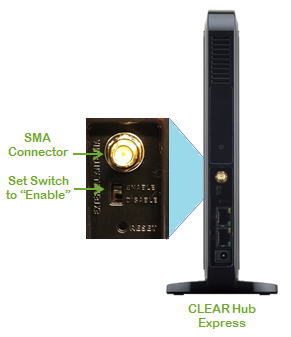 Alternatively, to hook up this antenna port to N-Male cable use an
RP-SMA-Male/N-Female
adapter. To hook up to other cable types use the appropriate adapter here:
https://www.rfwel.com/signal_improvem...n_adapters.php
. To find other Wimax antenna types such as table-top low-profile antennas go here:
Wimax antennas